Accommodation in Czech Republic
STOP YOUR BUSY TIME FOR A WHILE...

If you would like to enjoy your holiday in peace and quiet, you are invited to stay in our family farm house CHLOMEK.
Directly in the center of Europe you can find a place to spend marvelous rest with your family or friends. For its beauty and unspoiled nature this countryside was given a poetic name of "BOHEMIAN PARADISE". In high comfort and privacy of up to date equipped house you will be in touch with simple life of country people who try to keep the traditional way of farming for their pleasure.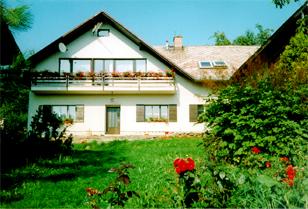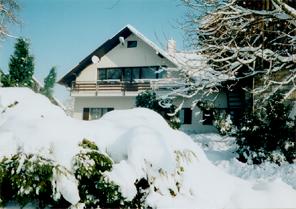 HOW TO GET THERE:
| | | |
| --- | --- | --- |
| Only one hour drive along the highway (E65) north direction from Prague - is necessary to reach our place. You will exit the highway for Turnov city and you will follow direction toward Lomnice n.P. through the center of this city. After about 4km you will come to a little village BELA. Continue along the main road and about 1km behind the end of this village you will turn right to CHLOMEK. | | |


ACCOMMODATION:
There are three bedrooms, comfortable living room and equipped kitchen in the guest section of our house. Running could & hot water, refrigerator, electric stove, washing machine and other equipment are obvious. Satellite TV set and telephone line provide you a connection to outstanding world every time you need.
During summer you can also enjoy large balcony or simply a grass of meadows. You can also collect wood in our forest to have a camp fire in the evening.
You will have your privacy, but our family stay in the background to provide services to you. Our home is open for you, small children will have a chance to explore farm animals if they are interested. They can also see what does it mean to milk a cow, how to make a hay, how to grow a crop etc. We can also supply you with fresh milk, butter eggs and potatoes if you want.



SIGHTSEEING TRIPS
The countryside around TURNOV is famous for a natural beauty. There are the famous "send-rock towns" HRUBA SKALA and PRACHOVSKE SKALY with bizarred shapes of rock towers. You can try your luck to find a precious stone visiting one of the old mines in KOZAKOV mountain. Interesting place to see is also dolomity-cave system in BOZKOV with the largest underground lake in Czech republic.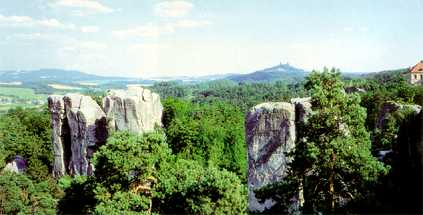 There are also many of excellent castles and ruins to see. Ruin of TROSKY castle is the most known dominant of this region. But you should not miss ancient castles KOST, SYCHROV and HRUBY ROHOZEC.
You also have a chance to fly in a small Cesna aircraft for a round trip from the local field airport in HODKOVICE n.M..
CHLOMEK has also an excellent position to visit other places in our country. Especially we can recommend trip to PRAGUE, one of the nicest city all over the world. But you have also very good chance to visit the Czech highest mountains KRKONOSE.
Next day you can go to a well known safari ZOO park in DVUR KRALOVE or ZOO park with botanic garden in LIBEREC.
When there is a lot of snow during the winter, you can ski to Jizera mountains around JABLONEC n.N. (pretty conditions for cross-country and down-hill skiing as well).

FOOD AND MEALS
You can prepare your own meals in the well equipped kitchen. But you can also go out into one of restarants around. You can enjoy different kinds of meals there in very reasonable price.

PRESENTS AND GIFTS TO BUY
Local specialty is precious stone (garnet) jewellery production in TURNOV. Czech republic is also very famous for production of crystal glass, jewellery and porcelain. For shopping we recommend to go to LIBEREC or JABLONEC.

We are looking forward to your visit and we will do our best to fulfil your expectations.

Sincerely

Hasek family


| | | |
| --- | --- | --- |
| address: | | reservations: |
| Hasek | | tel.: +420 602 935 981 |
| Chlomek 1, Bela | | |
| 511 01 Turnov | | E-mail:chlomek@jablotron.cz |
| Czech Republic | | |
| tel.: +420 436 25001 | | |